Bosnia and Herzegovina has won the World's Best Tourism Film People's Choice Award in a competition carried out by the International Committee of Tourism Film Festivals. The award-winning video titled 'Why Bosnia and Herzegovina Can Be Number 1 Travel Destination in the World' was made by Bosnian blogger and travel writer Robert Dacesin. He was presented with an award in Valencia, Spain on October 24. The video won a total of 56,914 votes from 74 countries, which is the largest number ever in the history of this competition.
Why I love Bosnia and Herzegovina
My friends would tell you how much of a Bosnia and Herzegovina die-hard fan I am. Not only because of family connections and roots that connect me to this magical, heart-shaped country on the Balkan Peninsula in southeastern Europe.
Nature
The natural beauty that adorns Bosnia and Herzegovina shows off in the most mesmerizing shades of Spring's and Summer's emerald greens, Autumn's reds, yellows, and browns or Winter's whites. When I drive through some parts of the country in late Spring or early Summer, I get overwhelmed as if the big Green is going to swallow me. I find Bosnia and Herzegovina's nature to be so good and nurturing for the soul.
Kalin mountain in Autumn, Central Bosnia Canton. Photos: Karmen Skaro
People
But, it is not only nature that makes Bosnia and Herzegovina worthy of your visit. The history and culture, the presence of Catholics, Orthodox, Muslims, and even Jews, despite the 1990s atrocities, is what I find to be the most beautiful thing about the country. I stay humble watching the everyday, 'small' people build torn bridges among the nations, doing everything they can so the ugly past never repeats. They inspire me and infuse me with a sense of optimism and hope that better days could be out there.
During many visits to post-war Bosnia and Herzegovina, I realized, yes, the situation is not ideal with politicians fueling further divisions and hatred. Luckily, as a media-trained professional, in contact with people 'on the ground' – the humanitarians, pedagogues, teachers, artists, shop owners, and old family friends, I knew the pulse of the people is not really as it is portrayed by the so-called 'leaders' and majority of media. Bosnia and Herzegovina taught me, at the base level, humans are the same everywhere, regardless of their confession, gender, age, etc. What we all want at the end of the day is a good life spent in peace, a certain level of stability and prosperity with our loved ones.
BH Futures Foundation
I have to give a shout-out here to Dr. Edhem Čustović, a business owner, entrepreneur, thought leader, mentor, and philanthropist for the exceptional, world-class work he does with BH Futures Foundation.
The foundation was founded in 2015. with a goal to empower the BiH youth through leadership, education, and technology. BH Futures Foundation is a beacon of light in Bosnia and Herzegovina I see shining brightest at the moment. The foundation hosts nearly 100 events every year in Bosnia & Herzegovina as well as it partners and sponsors dozens of events, ranging from technical workshops, seminars, symposiums, congresses, volunteering activities, and more.
I attended and learned a lot from BH Futures Foundation webinars where global experts from academia and industry cover a variety of topics from their domains and share knowledge with the youth of Bosnia & Herzegovina. Then, there is a Futures Voices podcast to learn from Bosnia & Herzegovina's professionals from all over the world who share career stories, tips, and advice. I couldn't believe the top positions of power that the Bosnia and Herzegovina diaspora holds in the world. I was and still am super star-struck by them all.
My top 15 places to visit in Bosnia and Herzegovina
It goes without a say you should visit Sarajevo, Mostar, and Banja Luka as the three main major cities and centers in Bosnia and Herzegovina. But my top 15 places to visit in Bosnia and Herzegovina will concentrate on slightly lesser-known places that I personally love and think are the reflection of Bosnia and Herzegovina that once was and some places I hope – the Bosnia and Herzegovina that always will be.
Perućica Forest Reserve and Sutjeska national park
One of the last remaining primeval forests in Europe stretching across an area of 1,400 hectares (3,500 acres), the Perućica forest is a UNESCO-recognized site. It is situated at the border with Montenegro and is part of the Sutjeska national park.
Lukomir village
Sitting at an altitude of 1,495 m. on the Bjelašnica mountain, Lukomir village and its immediate surrounding are designated as the National Monument of Bosnia and Herzegovina. It is the highest and most remote village in the entire country. The village was first recorded in 1451, as a settlement that has grown over time to today's appearance: a settlement of several dozen houses, covering an area of 10 hectares along the stream.
Una national park
Una national park is Bosnia and Herzegovina's largest national park with waterfalls and white rapids highlighting the park. It is a popular destination for outdoor sports enthusiasts where they enjoy prime conditions for rafting, fishing, cycling, hiking, and camping. Also known for its biodiversity, Una national park is home to 30 fish species, 130 bird species, and other animals that roam through the forest, including lynx, fox, wolf, bear, and chamois.
Mountains for hiking and winter sports
Bosnia and Herzegovina boasts 60 mountains that have peaks over 1500 meters above sea level, while 11 have peaks over 2000 meters above sea level. There are many agencies offering guided hikes that you can find and book online. With landmines that have remained from the 1990s war I highly recommend hiring a local guide who knows the terrain well. As far as the winter ski sports are concerned I would recommend ski centers on Kupres for ski beginners and families who like a little bit more intimate atmosphere, and Bjelašnica and Jahorina mountains near Sarajevo for more experienced skiers.
Počitelj
Počitelj is a settlement and a historic village built in the Middle Ages on the steep banks of the Neretva River, on the main road Mostar-Metković, about 30 kilometers (19 mi) to the south of Mostar. The nucleus of the village is built in a natural karst amphitheater and is a protected National Monument of Bosnia and Herzegovina and an open-air museum.
Visoko
Visoko is a city located in the Zenica-Doboj Canton. It was an early political and commercial center of the medieval Bosnian state where Bosnian first King Tvrtko I was crowned. The Old town Visoki, located on Visočica hill, with a fortress and its inner bailey Podvisoki was an early example of a Bosnian medieval urban area. Today, Visoko is more known for the claims of Semir Osmanagić, a Bosnian businessman, author, and explorer of megalithic and pyramidal sites around the world. He is promoting hills around Visoko as the largest and oldest pyramids in the world with an underground prehistoric labyrinth Ravne. Although his claims are widely refuted by geologists and archeologists that doesn't stop him from organizing various events and workshops, advertising and selling tours in the Bosnian valley of pyramids.
What sparked my interest was a documentary about pyramids on the VIASAT History channel a few years back where Mr. Osmanagić claimed the pyramids had healing properties and were designed with such intention. He derives that claim from measuring the levels of negative ions in the underground labyrinths he found beneath hills where he measured over 60 000 negative ions. Usually, the highest levels of negative ions are found in nature at levels of about 1000 to 1600 negative ions. I tried to find information online if similar measurements were done in other pyramids around the world and couldn't find anything. Would be interesting to see if a connection of some kind could be found and if Osmanagić is actually onto something. Or not. However you feel about the idea, it's an interesting site to visit.
Fojnica
Fojnica is located in the heart of the Vranica mountain in Central Bosnia Canton, most known for the Reumal, a well-known rheumatic spa thanks to the radioactive healing properties of the area's thermal waters. Fojnica's Franciscan monastery with its library and museum, founded in 1668, is a designated National monument of Bosnia and Herzegovina with a library of ca. 12,500 volumes. The nature surrounding Fojnica is magnificent!
Jajce
Jajce is a historical town located in the Central Bosnia Canton on the confluence of the rivers Pliva and Vrbas. It was built in the 14th century and served as the capital of the independent Kingdom of Bosnia during its time. Tourists visit Jajce to enjoy the waterfalls in the very center of the city and explore the Jajce fortress, nearby watermills, and Pliva lakes.
Konjic
Konjic is a small, picturesque town in northern Herzegovina, on the banks of the Neretva River and the northern slopes of mountain Prenja. It is known for the stone bridge from the 16th century, Roman temple and relief of the god Mithras, medieval archaeological finds; numerous stećci (monumental medieval tombstones characteristic for Bosnia and Herzegovina), mosques, Catholic and Orthodox churches, and craft of carving.
Stolac
Stolac is one of the oldest cities in Bosnia and Herzegovina as well as one of the oldest continuously inhabited cities in the world. It is most famous for the nearby Radimlja stećak necropolis dating back to the 15th and 16th centuries. Stećci are inscribed on the World Heritage List by UNESCO since 2016, with a selection of some 4,000 individual monoliths, grouped in necropolises at 28 locations, of which 22 are in Bosnia and Herzegovina, two in Croatia, three in Montenegro, and three in Serbia. One of the best-preserved collections is the tombstones in Radimlja.
Blagaj
Blagaj is a village in the southeastern region of the Mostar basin, in the Herzegovina-Neretva Canton most known for a 15th-century Dervish monastery situated at the source of the Buna river. Above Blagaj, there is a town-fortress complex locally known as Stjepan-grad after 15th-century ruler Stjepan Vučić Kosača.
The royal town of Bobovac and Vareš municipality
Bobovac is a protected national monument as the fortified town of medieval Bosnia. It is yet another beautiful place in BiH, with an enchanting landscape, wooded hills, paths, and nature ideal for excursions and sightseeing. Bobovac belongs to the Vareš municipality which has eight registered national monuments on its territory.
Višegrad
Višegrad is a town and municipality located in eastern Republika Srpska. Its most famous attraction is the Ottoman-era Mehmed Paša Sokolović Bridge, popularized by Ivo Andrić in his Nobel prize-winning novel 'The Bridge on the Drina.' A tourist site called Andrićgrad (Andrić Town) is located near the bridge.
Vjetrenica cave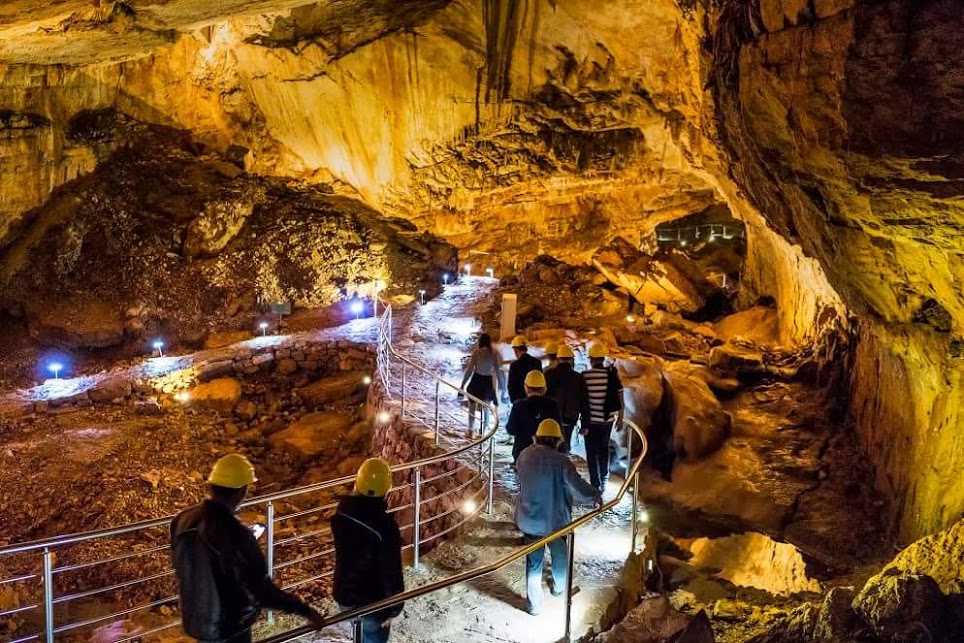 Vjetrenica is the largest cave in Bosnia and Herzegovina, and the most biodiverse cave in the world. It is part of the Dinaric Alps mountain range, which is known for its karstic and speleological features. The cave is located in the Popovo field in Ravno, East Herzegovina.
National Museum of Bosnia and Herzegovina
If I was to recommend only one museum in Bosnia and Hercegovina to visit, it would be this one. Established in 1888., National Museum of Bosnia and Herzegovina houses important collections of Bosnian history, archaeology, and Islamic art, including the Sarajevo Haggadah (the oldest Sephardic Jewish document in the world). The museum has over 500,000 objects in its collection and exhibition space that range from archaeological discoveries to contemporary art and design.
I'm still discovering Bosnia and Herzegovina. There are many more places I'd like to visit and explore. I'm sure the list of my top places to visit in Bosnia and Herzegovina will expand in the days and years to come.